SPECIFICATIONS
Sweat Absorbent, Quick Drying
COLOURS 
MATERIAL
Main : 90% Polyester
10% Polyurethane
Other : 100% Polyester
A TECHNOSTYLE APPROACH
WHERE TECHNOLOGY MEETS STYLE
Top players stay relaxed and win points at critical times in the match. Yonex clothing dries sweat quickly and lowers your body temperature to keep you comfortable.
Stay cool under pressure and concentrate on winning.
PRODUCT TECHNOLOGY

VERYCOOL DRY 



UV REDUCTION 
OUTSTANDING ULTRAVIOLET INTERCEPTION
Yonex clothing intercepts infrared radiation and approximately 92%* of ultraviolet, minimizing heat build-up in clothing during play.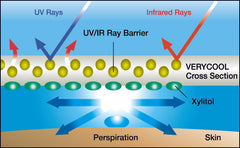 AIR-RELEASE
SUPERIOR COMFORT IN THE HEAT
As warm air rises, cold air enters into open areas. Based on this fact, new Yonex Air-Release technology has greatly improved ventilation in our shirts. Mesh in the back of the neck provides high ventilation, pushing out body heat. Meanwhile, fresh air is taken in through mesh equipped on the side of the shirt from the bottom to the armpits, keeping you cool under severe heat.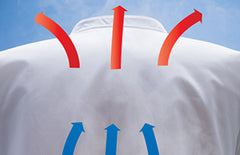 SWEAT ABSORBENT AND QUICK DRYING
It absorbs unpleasant swear quickly and it dries. The interior of the garment is kept dry and comfortable. Even in hard games, we support aggressive place 
STRETCH
FLEXIBLE, FORGIVING, AND FASHIONABLE
Innovative stretch material allows for free movement that supports your active play.
ANTISTATIC 
AVOID THE DISCOMFORT OF STATIC ELECTRICITY 
Carbon impregnated, conductive fibers, woven into the stitching of the clothing remove the build-up of static electricity. 
POLYGIENE (ANTIBACTERIAL DEODORANT)